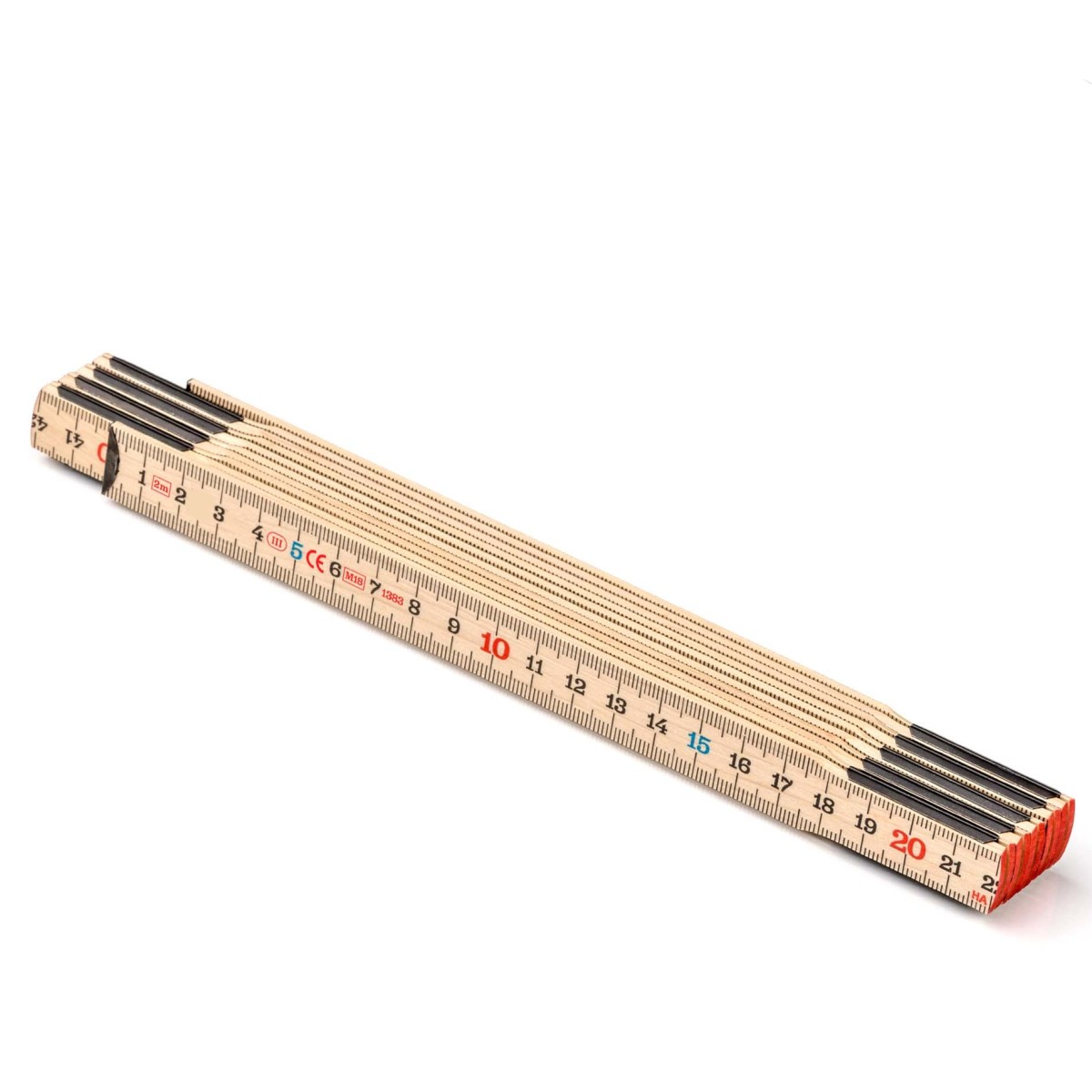  
Metermaß "Wicky" Weißbuche | Glasbirke
The "Wicky" metre rule (folding rule) is made of European moor birch or hornbeam.
Its slats are incredibly flexible and therefore the metre rule is also slightly less wide than other models.
In the version made of glass birch (moor birch), it is incredibly flexible.
Advertising yardstick "Wicky" - the USP's:
incredibly smooth handling when opening & closing - very smoothy
3-coloured scale is very comfortable to read
Material: glass birch (moor birch) or hornbeam
Check price & availability
* Price example per piece with the following configuration:
2000 pieces, 2m hornbeam, 1C pad printing one-sided, without VAT, ex works.
The 5s numbers are displayed in blue - the 10s in red - making this printed advertising yardstick particularly easy to read.

The promotional yardstick has smooth-running joints made of black galvanised steel which ensures a long service life - the rivets are not visible.
Length (folded): 24cm
Height: 1,6cm
width: 3,6cm
The Wicky is only available in wood natural colour - with transparent protective lacquer

Then decide on the appropriate type of scaling:
standard duplex
free bar on top (with your desired print for an extra charge)
free bar in the middle (at an extra charge with your desired print)

The "Wicky" promotional yardstick is an attractive, long-lasting promotional item.
the joint is made of galvanised steel for a long life.
lubricated with mineral vaseline and hardened steel springs
transparent protective lacquer for long durability
painted with clear varnish to protect against scratching and solvents
narrowed lamella thickness for improved readability. In addition, the folding rule then slides even more easily into the trouser pocket
three-coloured scale for optimal reading. 10s numbers in red - 5s in blue - all other numbers in black